ACT NOW! Experience the extraordinary program together!
CITIC Pacific Youth Program aims at providing a tailor-made four to six-week internship and learning program with the unique advantages of CITIC Pacific. You can gain a deeper understanding of development trend, diversified businesses and company culture of a Chinese enterprise in Hong Kong, which assist you in formulating future career direction. You will also gain insights through project assignments on topics related to the objectives of the Youth Program.
来!一起感受非一般的工作体验!
「中信泰富青年计划」旨在为青年人提供一个为期4至6周的实习和学习计划。本计划借助中信泰富的独特优势,让你加深了解在港中资企业的发展趋势, 业务多元化及公司文化,协助你订立未来职业发展方向。你将通过与青年计划目标相关的主题项目任务, 获得更深入之体会。
Period of Program计划期间
From December 2021 to January 2022
2021年12月至2022年1月
From July 2022 to August 2022
2022年7月至2022年8月
Work Location工作地点
Hong Kong 香港
Program Highlight
Understand Chinese Enterprise
CITIC Pacific
Understand latest development of Chinese Enterprises as well as

CITIC Pacific

Get to know CITIC Pacific, a cross-industry, cross-regional, cross-cultural and integrated industrial platform
Experience Comprehensive Learning
Enhance personal and development skills through comprehensive learning program
Training includes
- Vision, Mission and Value
- Communication, time management, interview & career development
Valuable & practical work experiences through attachment to Business Units / departments
计划亮点
认识中国企业和中信泰富
了解中国企业以及中信集团的发展情况
认识中信泰富, 一个跨行业、跨区域、跨文化的综合实业平台
体验综合学习
透过全面的学习机会提升个人及发展技能
提供培训,包括:
- 愿景、使命和核心价值
- 技能培训如沟通、时间管理、面试和职业发展
到业务板块及部门获取实质工作体验
Job Functions
The program covers a broad spectrum of operations and offers a wide range of attachments / opportunities:
Business Development
Treasury / Audit / Finance
Company Secretarial / Legal
Corporate Communications
Human Resources Management
Business Operations
工作职能
计划涵盖了广泛的业务范围,并提供了丰富的实习机会 :
THE RIGHT FIT...
Full-time undergraduate or postgraduate students from any disciplines
Be passionate about a diverse range of businesses
Have strong business and commercial acumen
A team player with strong communication skills and excellent command of English and Chinese including Putonghua
合适的人选…
全日制专修任何学科的本科生或研究生
对不同的业务充满热情
拥有敏锐的商业触角
具有团队合作精神,沟通能力强,精通英语和中文(包括普通话)
Selection Process
甄选过程
Application Start: 24 September 2021
申请开始日期:2021年9月24日
Additional Information:
Interested parties may submit your application by clicking the "Apply Now" button, the employment application will open in a new window.
附加信息:
有兴趣的人士可以通过点击"立即申请"按钮提交您的申请,就业申请将在新窗口中打开。
Terms:
All information provided by applicants will be treated in strict confidence and used only for recruitment purpose. Applicants who are not contacted may consider their application unsuccessful. CITIC Pacific will retain the applications for a maximum period of one year during which applications may also be referred to other vacancies of CITIC Pacific Limited including its subsidiaries or affiliates.
For enquiries, please contact us at enquiry-hr-career@citicpacific.com.
条款:
申请人所提供的个人资料将绝对保密及只用于招聘用途。若于递交申请后没有接获面试通知,即代表其职位申请不成功。申请者的个人资料将被保存一年,同时也有可能因应需要,把其个人资料转移到中信泰富有限公司及其子公司或附属机构以考虑其他职位空缺。
如有查询,请发送电邮至 enquiry-hr-career@citicpacific.com
Follow Us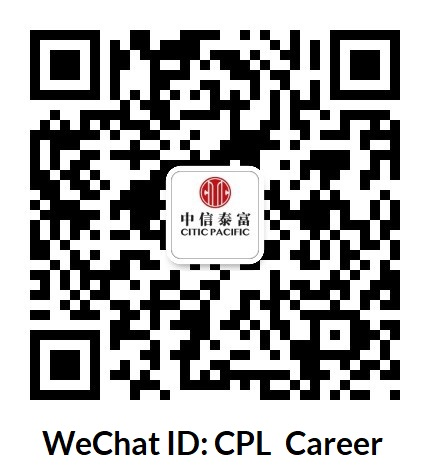 Follow Us