ACT NOW! JOIN us to actualize your career DREAM!
Our CITIC Pacific Future Business Leader Trainee Program ("FBLT Program") aims at nurturing and developing young talents to pursue business leadership in a diversified business environment. Our Program is career long, focused, stretched and rewarding. By stages, our Future Business Leader Trainees will be equipped with competencies as an industry expert for a pivotal function of a certain business and be ready to reach out other major businesses for project assignments. Successful candidates can expect a fast tracked development with senior leadership mentoring, which unleashes your potential to a no-limit and rewarding career at CITIC Pacific.
来!一起实现您的事业梦想!
「中信泰富未来商业领导培训生计划」旨在培育一群追求于多元化综合企业环境中成长,以成为未来商业领导为目标的青年人才。此计划为学员提供具针对性、延伸性及激励性的职业生涯,令具潜能、热诚的您于短时间内尝试具挑战性的锻炼,培养行业专家备有的核心胜任力,并于不同业务板块承担战略项目工作。成功获聘者将在中信泰富领导的指导下快速成长、释放潜力、迈向无限,实现个人事业梦想!
Program Structure
FBLT - A Structured and Rewarding Program leading your way to be a FUTURE BUSINESS LEADER.
Stage 1 (12 months)
Grasp good understanding of all functions of a conglomerate platform and operations of all major businesses
CITIC Pacific Onboarding Program
Core Competency Training (6 Modules)
Business Training (3 Modules)
Job Attachment to All Head Office Functions
Onsite Visit to major business units
Project Assignment
Leaders Chat
Senior Leader Mentoring
Stage 2 (30-36 months)
Become an all-round Middle Management with specialized expertise in one major business
Business Onboarding Program
Leadership Competency Training (4 Modules)
Industry Specific Business Training
Job Assignment & Rotation across all major functions
Personalized Development Plan
Project Assignment
Leaders Chat
Senior Leader Mentoring
Stage 3 (12 months)
Stretch to develop business leadership across industries
Onsite Study & Business Assignment for two different businesses
Personalized Development Plan
Leadership Development Program
Development Centre
Leaders Chat
Senior Leader Mentoring
计划结构
未来商业领导培训生计划 – 一个有系统兼具激励性的培训计划,引领您成为未来商业领导。
阶段一(12个月)
了解综合实业平台的职能和主要业务的营运
中信泰富入职培训计划
核心胜任力培训(6个模块)
业务培训(3个学习模块)
总部部门跟岗
业务板块考察
专题项目
与高管交流
领导导师计划
阶段二(30-36个月)
能胜任业务板块的关键中层管理岗
业务板块入职培训计划
领导力培训(4个模块)
行业专业培训
业务板块部门轮岗
个人订制培养计划
专题项目
与高管交流
领导导师计划
阶段三(12个月)
加速培养成为跨行業领导人才
完成两个主要业务板块項目调研
个人订制培养计划
领导力发展培養计划
发展评估中心
与高管交流
领导导师计划
Your Gains...
您的得益...

Fast Track Career & Professional Development towards Management Roles
按表现可跨界擢升至中层管理岗位
Sought-after Exposure to Multiple Industries for Diversified Business Leadership
跨行业锻炼培养出非凡领导力
World Class Learning & Senior Leadership Mentoring for All Round and Personalized Development
一流培训资源结合高管指导达致全面发展

Opportunities & Challenges Unleashing Your Infinite Potential
机遇挑战引发无限潜能
THE RIGHT FIT...
Master's degree holder with strong academic background in both engineering/science/technology and business-related disciplines
Be passionate about a diverse range of businesses, enjoy working in different geography
Be aspired to be a future business leader with operational excellence
A team player with strong communication skills and excellent command of English and Chinese including Putonghua
合适的人选…
具有工程/科学/技术和商业相关优秀学术背景的硕士毕业生
对不同领域及业务岗位充满热诚
志向成为具备运营管理专长的未来商业领导
团队合作精神、出色的沟通技巧及良好的语文能力(包括中、英、普通话)
Selection Process
甄选流程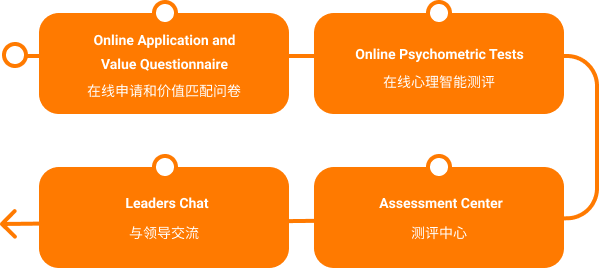 Application Start: 15 September 2020
申请开始日期:2020年9月15日
Additional Information:
Interested parties may submit your application by clicking the "Apply Now" button, the employment application will open in a new window.
附加信息:
有兴趣的人士可以通过点击"立即申请"按钮提交您的申请,就业申请将在新窗口中打开。
Terms:
All information provided by applicants will be treated in strict confidence and used only for recruitment purpose. Applicants who are not contacted may consider their application unsuccessful. CITIC Pacific will retain the applications for a maximum period of one year during which applications may also be referred to other vacancies of CITIC Pacific Limited including its subsidiaries or affiliates.
For enquiries, please contact us at enquiry-hr-career@citicpacific.com.
条款:
申请人所提供的个人资料将绝对保密及只用于招聘用途。若于递交申请后没有接获面试通知,即代表其职位申请不成功。申请者的个人资料将被保存一年,同时也有可能因应需要,把其个人资料转移到中信泰富有限公司及其子公司或附属机构以考虑其他职位空缺。
如有查询,请发送电邮至 enquiry-hr-career@citicpacific.com
Follow Us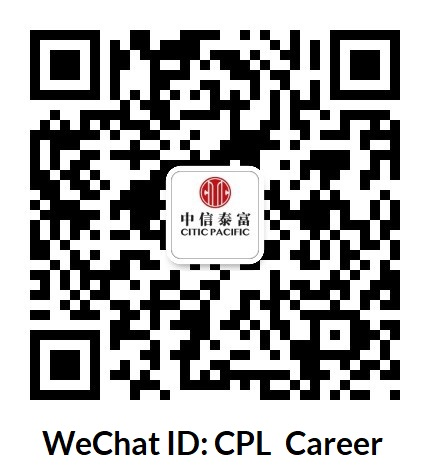 Follow Us